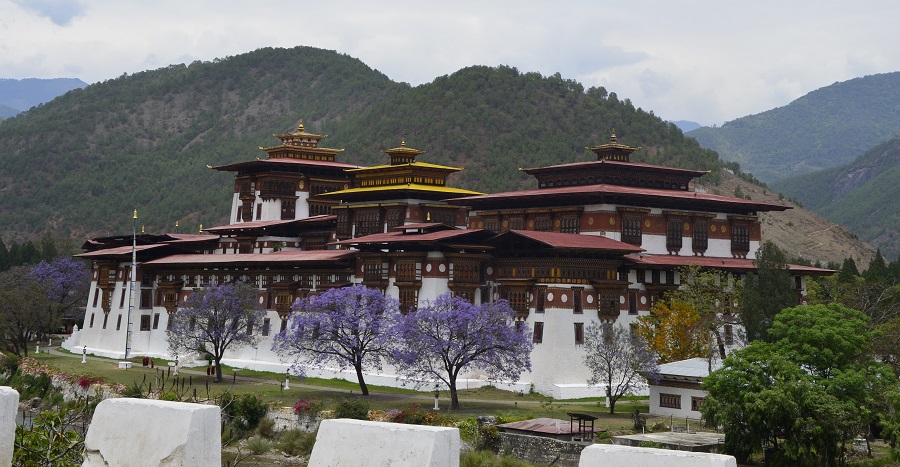 The valleys of Punakha and Wangdue are warmer compared to Thimphu. There is also more paddy field in these two valleys compared to Thimphu valley. These two valleys are about half an hour drive from each other. River rafting is most suitable and carried out in this region. Punakha is the winter residence for the central monk body and it was once the capital of Bhutan until 1955.
Punakha Dzong
The dzong was built in 1637 and it served as the venue to host the establishment of the Wangchuk dynasty on 17 December 1907. The dzong is beautifully located at the confluence of two rivers, Pho Chhu and Mo Chhu. The dzong continues to be the winter residence of the Je Khenpo(Chief Abbot) and the central monk body.
Chimmi Lhakhag
Is a 15th century temple famous for its fertility endowments/rites due to the blessings of Lam Drukpa Kuenley. The temple sits on a hillock shaped, as only Drukpa Kuenley could describe it "like a woman's breast". The temple houses the lam's iron bow and arrow, a small altar Chorten made by the lam and some of his personal effects and scriptures. A wooden effigy of Drukpa Kuenley's male organ is used to bless pilgrims, particularly childless couples of those who have suffered miscarriages or early deaths of their children. Children born under such circumstances under the patronage of Drukpa Kuenley are often named Kuenly or Chimi in honour of the saint and the place.