Travelers, visiting Bhutan will be treated a first glimpse of Bhutan in the form of temples, prayer flags and gorgeous hills and mountains with traditional Bhutanese settlements in the valleys.
A trip by air will land you to Paro where Bhutan's international airport is located. Paro is considered by many as one of the most beautiful places to visit with its rich historical legacy and many ancient temples and monasteries.
A traveler's first introduction of Bhutan would most definitely be the famous Tiger's Nest or the Paro Taktshang, an ancient Buddhist monastery precariously located on the face of a cliff.
The monastery was built at a site where Guru Padmasambhava had mediated in the eighth century.
As you exit Paro towards the capital city Thimphu, you would also be greeted by the sight of Paro Rinpung dzong, a fortress built by Zhabdrung Ngawang Namgyel, in 1600.
On the way towards Thimphu, which is a 40-kilometer stretch, the road will follow the beautiful Pachhu River.
While at Thimphu, there is so much to witness and take home as memories. Thimphu is the biggest city in Bhutan and houses the royal family. Thimphu Tshechu, which is usually held sometime during fall, attracts thousands of tourists every year.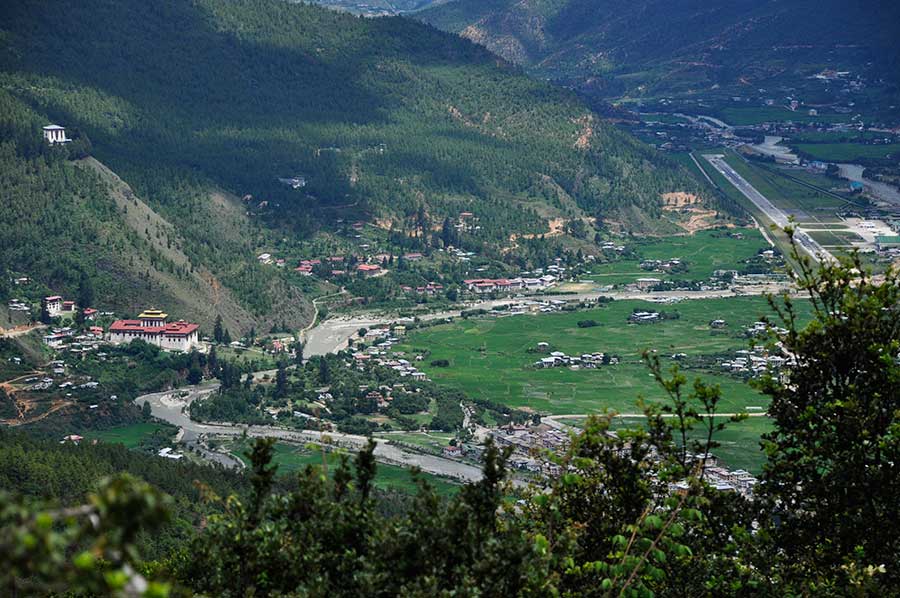 The Tshechu, which is observed throughout the country, is a festival of mask dances where monks and laymen adorn themselves with masks and beautiful costumes to entertain audiences. The meaning and significance of the festival echo throughout Bhutan's rich culture and religious history.
But there is so much to explore beyond Thimphu and Paro. Bhutan's countryside is adorned with quaint villages, lush green paddy fields and typical two storied Bhutanese houses.
Bhutanese people are warm and hospitable. You would also witness the simple Bhutanese lifestyle and a community sense driven by harmony and friendliness.
A 500-kilometer journey from Thimphu towards east will reach you to Trashigang, the easternmost district in Bhutan. Here people speak a different language and the setting is mostly rural.
While at Trashigang, one can travel northwards to Bomdelling, where the rare black-necked cranes migrate during winter.
Tourists can participate in a host of local festivals throughout Bhutan to experience Bhutan in its entirety.