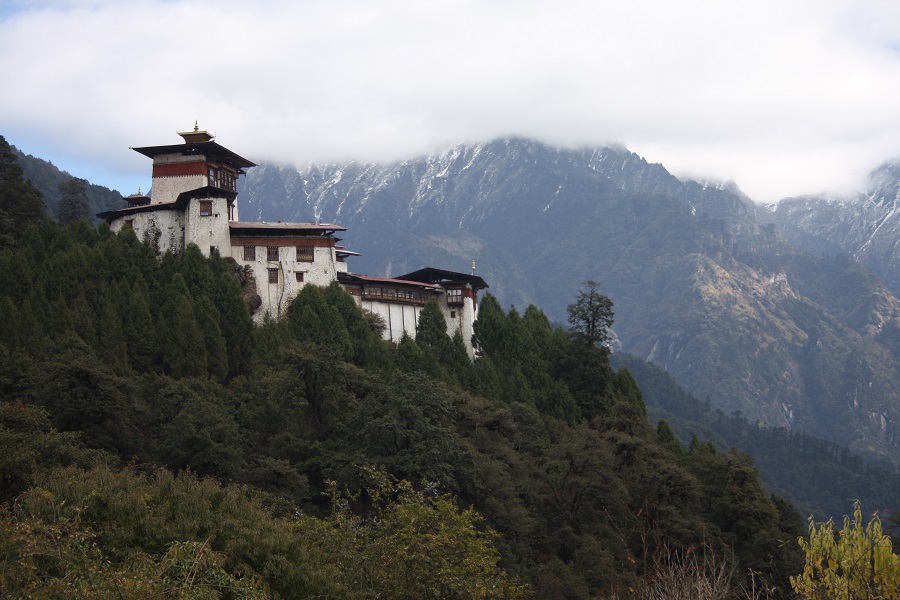 The drive from Wangdue to Trongsa is very exciting with the crossing of Pelela pass and then entering the beautiful valley of Mangde. This place connotes great history of the Wangchuck Dynasty where they emerged as the most powerful force at the beginning of the last century. The first and the second king ruled the country from Trongsa's ancient dzong. The Crown Prince of Bhutan always held the position of Trongsa Penlop (Honorary Governor) before succeeding to the throne.
Trongsa Dzong
The Dzong was originally built in 1648 By Zhabdrung Ngawang Namgyal, and was later extended by its powerful Penlops, and the 16th Desi Sonam Lhundup. Today it stands as the largest Dzong in Bhutan at 7,500 feet with a bewildering complex of temples, corridors, and administrative office. Protected from invaders then by an impenetrable valley, Trongs Dzong stood impregnable fotress. Because of it's highly strategic position as the only connecting route between East and West Bhutan, the Trongsa Penlop was able to control the whole of eastern and central region effectively. Trongsa Dzong is the ancestral home of the Royal Family and both the First and Second King of Bhutan ruled the country from this ancient seat.
Chendebji Chorten (Stupa)
Is enroute to Trongsa and is designed in line with Kathmandu's Swayambhunath Stupa, with eyes painted at the four cardinal points. It was built in 18th century by Lam Shida from Tibet, to cover the remains of an evil spirit that was subdued at the place.