Mask dances are an integral part of Bhutan's religious and cultural traditions. There is more to these exotic dances than meets the eye. Bhutanese believe that watching the dances bring merit and cleanse their souls.
The tradition dates back to many centuries when great Buddhist teachers and masters visited Bhutan to spread the faith and annihilate all obstructions to Dharma. Powerful evil forces often tricked people and tried to stop the teachings from spreading. Thus, the masters often started by subduing these evil forces.
In a symbolic gesture, these masters performed dances to celebrate their victory over evil. For example, Guru Padmasambhava, the Indian tantric master, who first brought Buddhism to Bhutan reportedly vanquished many evil spirits and composed several dances to celebrate his victory.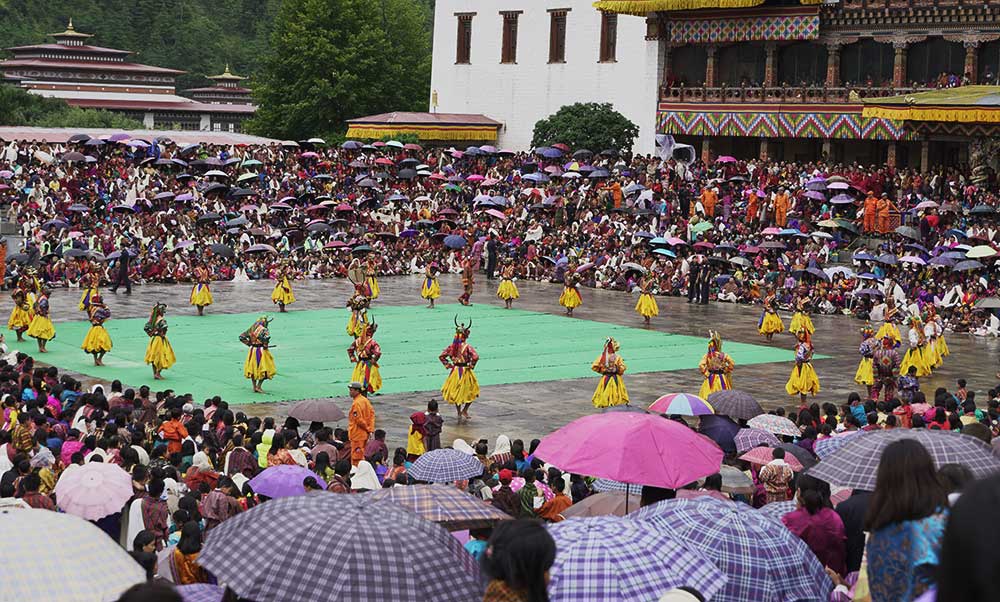 Over several centuries, these dances have been practiced and perfected by monks and laymen. Dancers don colorful costumes and masks. Many temples and monasteries around the country hold their own annual festival of mask dances called tshechu.
Tshechus are held in the courtyard of Dzongs or fortresses, and this gives travellers an easy access to the fortress' architecture. At the end of the tshechhu, a large tapestry called Thongdrel, which bears a hand-woven image of Guru Padmasambhava, is displayed on the wall of the Dzong.
The Thimphu Tshechu, which is held between September and October, is a major tourist attraction. Close to 5,000 tourists visit the country every year to witness the Thimphu tshechu.
The Bhutanese wear their finest dress to tshechu. Family and friends eat together and make merry. Indeed, tshechus are important annual social gatherings that have continued to nature community vitality and social bonds.